PROFILE 2000XR
Expand your Potential Profits
with Display Advertising!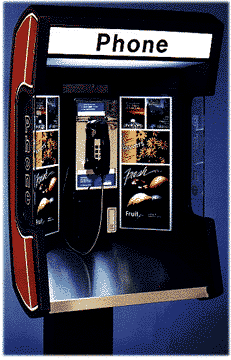 SPECIFICATIONS
Advertising Space:Two 10 x 23 ad panels are located on inside of enclosure at approximately 45" angle viewing area is 8 x 21. Backlighting for ad panels optional.

Material: Material is flame resistant and resists most graffiti and surface abrasions. Unlike metal,polyethylene resists denting or deformation. Withstands temperature extremes from -40 to 180 degrees Fahrenheit.

Mounting Options: Wall mount and Pedestal mount in single or back-to-back.

Side Accent Panels:
Reflective decal in four standard colors, other colors are special order.
Baked enamel porcelain available in five standard colors, other colors are special order.
Enclosure Color: Black is standard, other colors available on special order.

Writing Shelf: Slanted writing shelf with universal directory mounting plate. Stainless steel shelf and directory shelf optional.

Directory Facility:Fortec directory swingaway binders and standard chain hung are available for use with the directory mounting plate or optional directory shelf.

Signing: Lighted front tempered glass lens or polycarbonate. Interior lighting. Tempered glass side panels.

Graphics:
"PHONE" only in blue, white, brown, or black.
Other graphics are available.
Light System: Standard fluorescent lamp. Photo sensor control and circuit breaker are optional.
PRESS HERE to return to Fortec's Profile Series